How to get help recording classes as an iSchool faculty member
The iSchool offers several solutions for faculty who wish to have classes recorded. Depending on the type of session and the needs of the hosting faculty member, either the GA Crew or Classroom Support Services (CSS) will be able to help.
Classroom Support Services does not charge for recording credit-generating classes, assuming proper notice. All other recordings are subject to equipment rental and/or labor charges. CSS offers the following options for recording:
Screencasting
Podcasting
Video capture, with assistance from a CSS technician

Classroom Support Services
Location: 035 Kane Hall
Email: classrm@uw.edu
Phone: (206) 543-9900
Website: http://www.css.washington.edu/
Please note that CSS may also assist in the recording of events as well. If you have a non class-related event that you would like to have recorded, send an email to ihelp@uw.edu describing your situation.
The GA Crew may be of help with advance notice and do not charge fees for their assistance. However, GAs are not necessarily trained on the use of CSS-owned recording equipment. To request help, please send an email with details regarding your iSchool event or class to the Online Learning Team at olt@uw.edu
For both of the above options, early notice is essential. The iSchool Online Learning Team needs at least 9 days notice to guarantee assistance, while a guarantee of CSS staff assistance requires a minimum of 3 weeks notice.
For information about the iSchool's official hosting options, such as on iTunes U or the iSchool's YouTube channel, contact Online Learning by emailing olt@uw.edu.
To help decide which option is right for you, view the iSchool Event & Class Recording Information handout below. For more information, and to view the image below in PDF form, click here.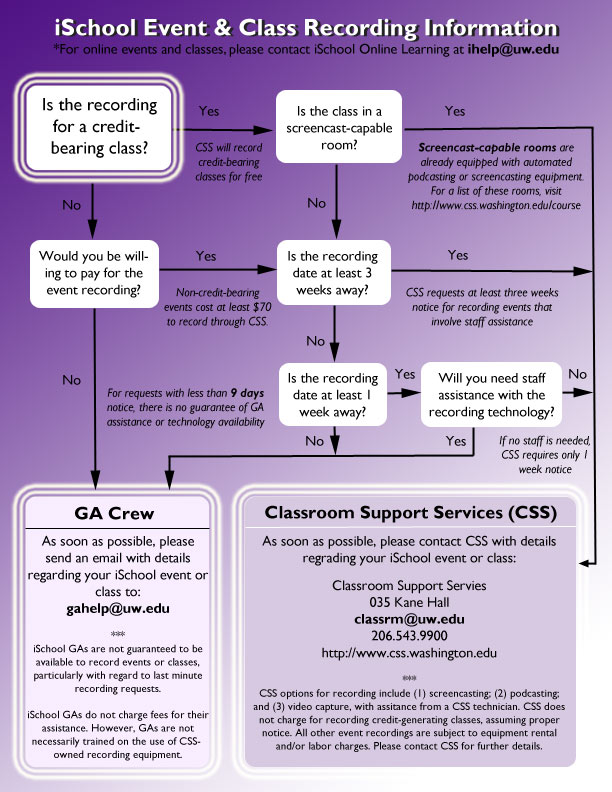 ---
If you have any questions after reading this article or if you need any help, please don't hesitate to contact the iSchool IT Help Desk.

http://ischool.uw.edu/help
(206) 616-3086