Basic procedure for printing files from a USB Flash Drive on a Ricoh printer
Notes:
This machine only supports FAT16 or FAT32 formatted USB drives
SD cards must be 2GB or smaller
Saving might fail if the USB flash memory features password protection or other security features
Only connect USB flash memory to the USB slot
Insert the USB drive directly into the media slot
Do not remove the media while data is being written. Doing so will result in corrupted data.
1.  Insert a memory storage device into the media slot.
2. Press the [Home] key on the top left of the control panel, and press the [Printer] icon on the [Home] screen.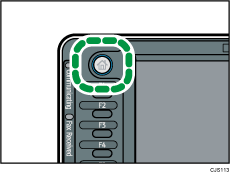 3. Press [Print from Memory Storage Device].
4. Select the memory storage device that contains the file you want to print.
– Only one memory storage device can be selected at a time.
5. Select the file you want to print.
– You can simultaneously select multiple files of the same file type in the current folder.
6. If necessary, press [Detailed Settings] to configure detailed print settings.
– Note that certain settings cannot be selected simultaneously.
7. If necessary, press [Preview] to check the print image of the document.
– Only the first page of the document is displayed in the preview screen. No previews can be displayed when more than one document is selected.

– Press [Exit] to close the preview screen.
8. Press [Start Printing] or the [Start] key to start printing.
– To print a password-protected PDF file, enter the password.
9. When printing is complete, Press [Back to dev. slct. scr.].
10. Remove the memory storage device.
---
If you have any questions after reading this article or if you need any help, please don't hesitate to contact the iSchool IT Help Desk.

http://ischool.uw.edu/help
(206) 616-3086